The C1815 is a 50V 150mA general purpose NPN transistor with a maximum gain value of 700.  This makes the transistor suitable for amplifier applications.
C1815 Transistor Pinout Configuration
| | | |
| --- | --- | --- |
| Pin Number | Pin Name | Description |
| 1 | Base | Controls the biasing of transistor, Used to turn ON or OFF the transistor |
| 2 | Collector | Current flows in through collector, normally connected to load |
| 3 | Emitter | Current Drains out through emitter, normally connected to ground |
Features
General Purpose NPN Transistor
DC Current Gain (hFE) 70 to 700
Continuous Collector current (IC) is 0.15A
Collector-Emitter voltage (VCE) is 50V
Collector-Base voltage (VCB) is 60V
Transition Frequency: 80MHz
Available in To-92 Package
Note: Complete Technical Details can be found at the C1815 datasheet given at the end of this page.
Complementary PNP Transistor: 2SC1015
Equivalent NPN Transistor: 2SC2712, 2SC4116, 2SC4738
Where to use 2SC1815
The C1815 is a general purpose NPN transistor that is commonly used in Amplifier applications. There are four variants, the 2SC1815O will have a gain value of 70 to 140 and the 2SC1815Y will have 1020 to 240, the 2SC1815GR will have 200 to 400 and the 2SC1815L will have a gain range from 350 to 700.
This NPN transistor also has its counterpart PNP transistor the 2SC1015, which makes it ideal for Push-pull and class B amplifier designs. Apart from this the transistor can also be used for switching low power devices.
 Applications
General purpose switching
Class B amplifiers
Pre-amplifier circuits
Push-Pull configuration circuits
2D-Model
2D dimensions will help you in placing this component at the time of making circuit on perf board or a PCB.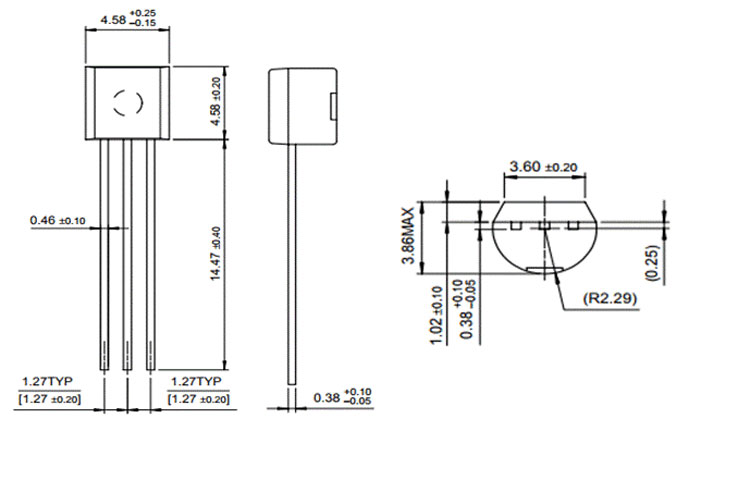 Component Datasheet
C1815 Transistor Datasheet