IRF3205 high current N-Channel MOSFET Transistor
The IRF3205 is a high current N-Channel MOSFET that can switch currents upto 110A and 55V.
Pin Configuration
| | | |
| --- | --- | --- |
| Pin Number | Pin Name | Description |
| 1 | Gate | Controls the biasing of the MOSFET |
| 2 | Drain | Current flows in through Drain |
| 3 | Source | Current flows out through Source |
Features
N-Channel Power MOSFET
Continuous Drain Current (ID) is 110A when VGS is 10V
Minimum Gate threshold voltage 2V
Drain to Source Breakdown Voltage: 55V
Low On-Resistance of 8.0mΩ
Gate-Source Voltage is (VGS) is ±20V
Rise time is 101ns
It is commonly used with Power Switching circuits
Available in To-220 package
Note: Complete Technical Details can be found at the IRF3205 datasheet given at the end of this page.
Alternatives for IRF3205
IRF1405, IRF1407, IRF3305, IRFZ44N, IRFB3077, IRFB4110
Other N-channel MOSFETS
IRF3205 MOSFET Overview
The IRF3205 is a high current N-Channel MOSFET that can switch currents upto 110A and 55V. The specialty of the MOSFET is that it has very low on resistance of only 8.0mΩ making it suitable for switching circuits like Inverters, motor speed control, DC-DC converter etc. It is also one of the easily available and cheap MOSFET with a low on-resistance.
So if you looking for a MOSFET to be used in your switching circuit that operates below 55V and less than 110A you can consider using the IRF3205. Note that the IRF3205 has high threshold voltage and hence not ideal for on/off control with embedded controllers. You can try the IRF540N for that purpose.
Applications
Switching Applications
Boost converters
Choppers
Solar inverters
Speed control
2D model of the component
If you are designing a PCB or Perf board with this component then the following picture from the IRF3205 Datasheet will be useful to know its package type and dimensions.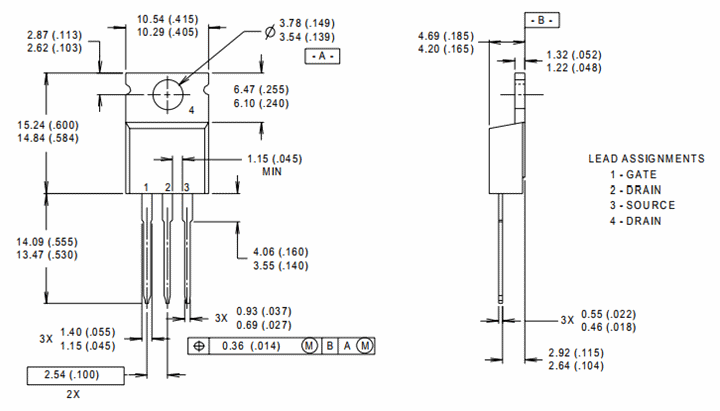 Component Datasheet
IRF3205 Datasheet